Oktoberfest Tips 2018 – Oktoberfest FAQ
How to survive the greatest mass booze-up on earth
Every year locals who did not manage to escape, stand in awe and behold a mass invasion of tourists with only one goal in their tunnel vision:
The Oktoberfest: the worlds largest piss-up in disguise of a traditional beer fest.
Don't be afraid first-timers your inhibitions will fall after beer number two in concert with your clothes.
Here are some tips to the uninitiated in order to handle occasional beerfest adversity.
I. Accomodation
During Okoberfest season prices for accomodation go through the roof. A hotel room in a centric location, if available, may cost you an arm and a leg. Munich has a fantastic public transport system (although locals may claim otherwise). A room on the outskirts may come at half the price and is only a 30 to 45 minute train ride away. Aditionally, those not only interested in beer, might get a glimpse of Munich off the beaten Oktoberfest track. There are several parking lots availble for RV's and campers, for those who venture to come by car. (not recommendable especially the second Saturday of the fest). A low budget solution are camping sites, for those who no are no strangers to the spartan charms of sleeping outdoors. In a worst case scenario you can get totally wasted and sleep it off on the lawn to the feet of the Bavaria ( a monument impersonating a dominatrix who keeps a lion for a pet, you can't miss it). The lawn is sloping in order to soften impact at inebriated fall. It is highly frequented and meant to serve the purpose of reception shelter for mild cases of alcoholic intoxication. If you are not afraid of this form of austere comfort and scared to sleep alone, this is your weapon of choice. If you're from California, maybe it's not for you.
II. Which tent is the best?
As tastes differ, it is impossible to say which tent goes best for who. But relax, after the second beer, your beer goggles will paint even the hooligan-proof restrooms in rainbow colors. For English speakers who are inclined to avoid residents: go to the Hofbräuzelt you will not hear one word of German there. Staff is used to drunken Anglo-Saxon behavior and English speaking.
III. How to get into a tent
As experienced Oktoberfest goers know, the problem is not so much which tent, but how to get in. In general, avoid the weekends and try your luck in the week. Do not go there the second Saturday where everything is flooded by vistors from the neighboring state of Italy whose citizens are not well trained in the art of beer drinking. In most cases they lack the elevated tolerance to deal with Oktoberfest beer. They make very emotional drunks and put yet the even tempered to a test of patience. (especially if you are female)
Should you against all odds try to get into an overcrowded tent, avoid the main entrance and try sideways. The best hours are 12.00 and 5.00 pm because the tents are vacated at that time to let in people with reservations.
IV. Be carful with the beer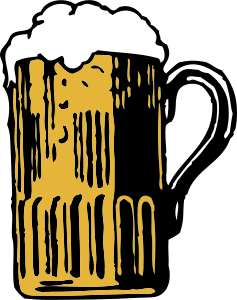 Even seasoned drinkers will be in for a surprise. Don't drink too much and too fast. (I know I sound like your mother now, but believe me). Eat some of the greasy food they offer or come well fed. The biggest danger is that you might not even feel too drunk inside the tent, but will be hit on the head with the hammer of the biggest alcoholic intoxication of your life once you're outside and breathe fresh air. Believe me, I have seen veteran drinkers crawling on the floor in search for their dignity.
Women should be especially careful as Oktoberfest beer not only loosens morals, but would even wake up a dead man's lust. Every year there are, despite all warnings, cases of rape. Should you have exhibtionist leanings when drunk, maybe this time it's better to keep your shirt on.
V. Traditional dress
If you see somebody wearing traditional Bavarian dress during Oktoberfest season, don't ask for the way, because they most certainly will be tourists. Bavarian dress helps to be admitted to beer tents and is useful due to is sturdy making. Like jeans it was meant to be workwear originally. Leather trousers soak up beer spills and provide upholstery for long sessions of serious drinking on wooden benches. "Dirndls" (female Bavarian dress) are well ventilated in beer tent heat and serve as makeshift blankets when its wearer passes out into an alcohol induced coma.
VI. Cash is king at the Oktoberfest
If you are used to paying with plastic, you'll be in for a surprise. As it is to expect of an event as rustic as this one: cash is definitely king. And bring lots of it. The Okoberfest is officially called a "Volksfest" (fest of the people), but most of all it's a cash cow for the tent owners.                 Should you have to foot bills in the ballpark of four digits, you may be granted the use of your credit card. Smaller amounts, however, are to be paid in cash unless you want to experience the wrath of a Bavarian waitress first hand. (not recommendable).
VII. Respect the residents
Every year there is at least one drunk sleeping it off on the doorstep of my apartment building. Remnants of feces and vomit in gardens and sidewalks are the souvenirs the denizens of Munich are rewarded with for their hospitality. When in Munich do as the Municher. Residents know what they are in for when they stay in town for Oktoberfest season, still, it is not good style to leave a crap on someone's porch as a hostess gift.
So I hoped that helped, fasten seat belt and liquor up! With the Oktoberfest Tips 2015 you can't go wrong. Prost.
picture: (C) Wikimedia Commons